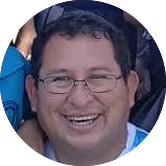 Enrique Santos Valdez
Director
A Rough Start
When Enrique was only 9 years old, his mother was faced with a difficult decision. Enrique's stepfather refused to have him in the home. His mother could either send him away, or be left alone, pregnant, with no way to support herself or her children. She made the harrowing choice to send Enrique away from the island of Roatán, to mainland Honduras. He would live with his grandmother, where she thought he'd be safe.
Unfortunately, Enrique's grandmother was not happy with the arrangement and forced him to work for his keep. As a 9-year-old, he worked at a construction site all day. The only way for him to stay in school was to attend night classes with older teens and adults – after working his full-time job during the day.
But even at that young age, he was determined to continue his education and improve his life.
Some nights, when he got home, exhausted after a day of hard labor and a full evening of classwork, his grandmother would refuse to unlock the door for him. He had to sleep on the ground outside the house and cover up with banana leaves to stay warm.
On His Own
At age 12, Enrique moved out of his grandmother's house to live with a young friend. By age 15, he was completely on his own, paying his own rent and working his way through school.
Looking back, he considers himself extremely lucky to have avoided gang involvement, since he would have been the perfect target – young, vulnerable, and alone.
He's thankful for several people who came into his life at the right moments, recognized his potential, and offered him better employment and a chance to learn new skills.
A New Direction
A turning point came for Enrique when he was about 18. In 1998, he joined a church and started volunteering with mission teams during the aftermath of Hurricane Mitch, which had devastated much of Honduras.
One day, he was traveling by helicopter to a mission site. What he saw on that ride struck him. He looked down on the hills where communities had once stood, which were now just scattered with wreckage. The utter devastation and suffering that so many people were facing changed his life direction. In that moment, despite his own difficult circumstances – or perhaps because of them – he decided he wanted to spend his life helping others.
Soon after that experience, Enrique moved back to Roatán, where his mother and siblings still lived. He met Joey, a missionary on the island. He began volunteering with Joey's soccer team, community projects, and mission teams from the US.
Full Circle
In 2003, Enrique married Jackie, and the couple later welcomed a son, Diego, and a daughter, Lindsey.
Enrique and Jackie each started their own small businesses to support their family, but Enrique never forgot his desire to help others, and the family continued to help their neighbors in small ways as often as they could.
In 2010, Enrique accepted a full-time position as a regional director for Living Water 4 Roatan, a Christian ministry. And in 2016, he decided to leave that position so he and Jackie could start their own nonprofit – now known as Corazón Catracho.
Enrique is most passionate about Corazón Catracho's Home for Youth project. This home for youth is a way to give young people what he wished he had growing up – a home away from home that's:
Safe, stable, and reliable
Available whenever they need it
Full of caring people who take an active role in their education as they work hard to pursue a better life